Customer Rink Community
Check out below for some pictures of our Ultimate Rink building customers.
A huge shout out to all of our rink builders that allow us to share their rinks with the rest of the Ultimate Rink community!
Description
Outdoor Rinks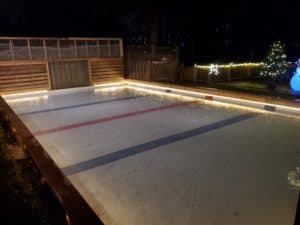 Our Feature 2020 Rink idea
Ingenious way of achieving more ice surface on your small rink.
Build your backboards with a net shape cut out.
Use the Ultimate Rink goal mesh to catch pucks in the opening.
This avoids having  to purchase hockey goals and leaves you with more skating surface. Make it more authentic by adding red Sill bands to the top and sides framing in your goal posts and cross bar.
Please note: Red Line, Blue Lines are beautiful and very cool but remember your rink will need to be in a shaded area OR the lines need to be placed on the rink bottom to avoid the warming suns rays and therefore causing you melted/soft areas on the skating surface. RESULTS:  skates cuts and chewed up hazards in the "line" area.
So So So many images from our amazing community and these versions have been picked by us to show the diversity of the options. Thank you so much for every ones submissions of their proud accomplishments of the last 30 years. We are honored you have shared your rink dreams and awesome work with us.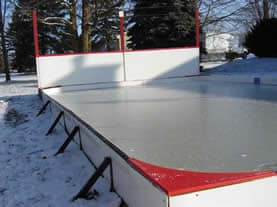 Talk to us about novel pond rinks  and board systems
Indoor Rinks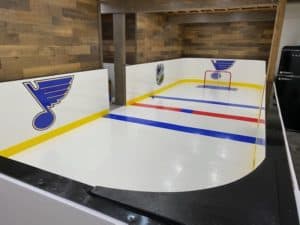 Our Feature 2020 Basement Rink
Take note of our black Corner Cap (in foreground) that fits well with this customers stunning wall.
Don't forget to add your favorite teams logo on our white Puckboard/Dasher to give you that Ultimate look!
Kudos to our customer for his amazing work and eye for detail in this set up.
Want to see your rink here?
Send us a photo and join the Ultimate Rink Community!